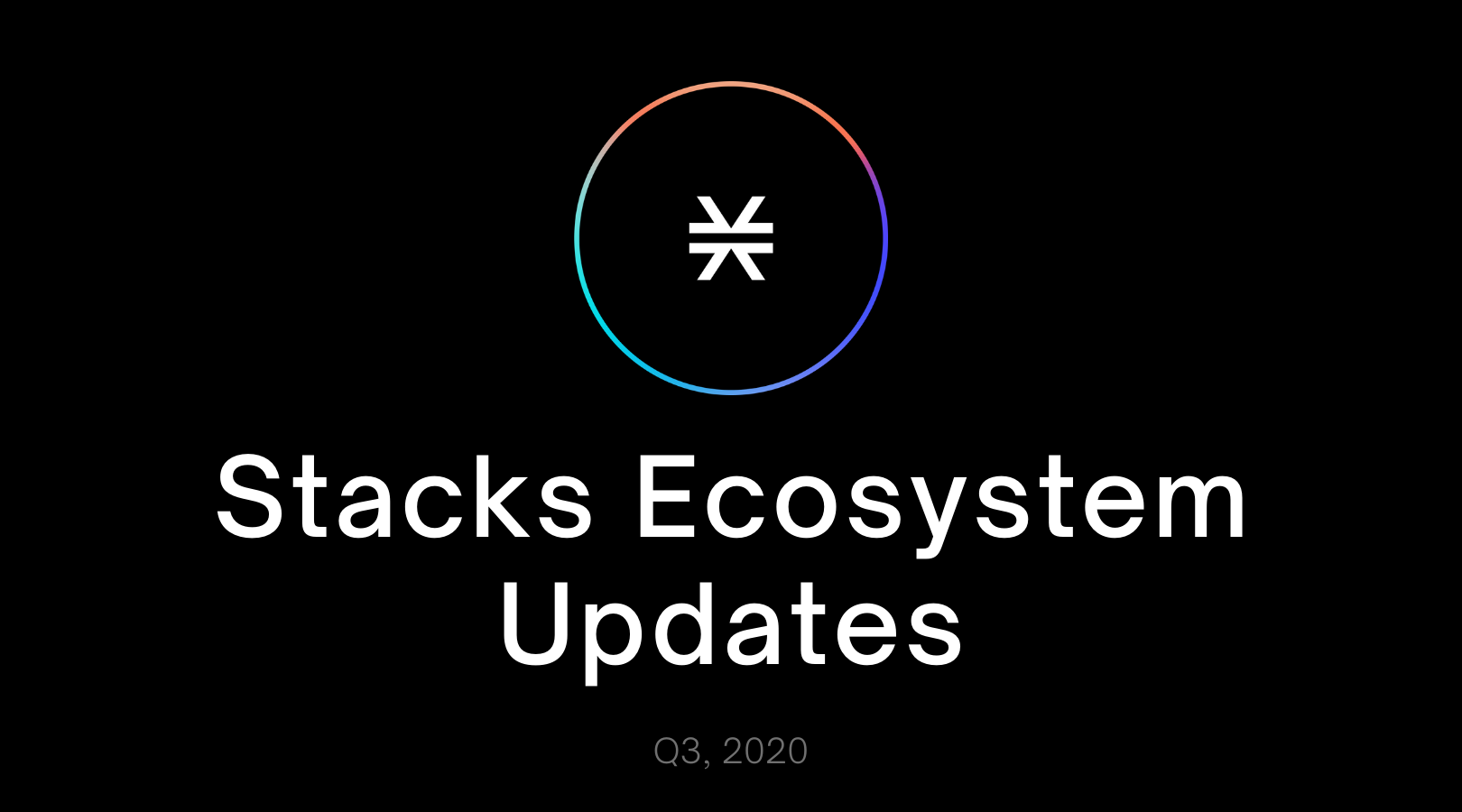 You know an ecosystem is truly blossoming when it's actually hard to compile quarterly updates and make them fit in a single email. It's always amazing to see just how much gets done toward our mission of building a user-owned internet on Bitcoin every 3 months.

I'm thankful for the many long days and late nights I see from the PBC team and from community members throughout the world as we collectively push toward the launch of Stacks 2.0. It will be an incredible moment for the Stacks ecosystem as well the crypto industry, as we bring a world of new possibilities to Bitcoin via apps and smart contracts.

While I know we're all looking ahead at Stacks 2.0, it's important to take a moment to celebrate what's been done recently. Here are some of my favorite recent highlights (please don't miss many more below):
Full Proof-of-Transfer went live on testnet: The Krypton testnet is now nearly identical to the Stacks 2.0 mainnet that will launch, meaning you can test Stacking (earning Bitcoin), mining, and smart contracts around Bitcoin in previously impossible ways.
Ecosystem Decentralization: Two new independent entities joined the Stacks ecosystem: Freehold, which provides new ways to organize communities, and Daemon, which supports STX miners and the Asia market. Further, Blockstack PBC transferred 100 Million STX to the Stacks Foundation to support its independent work and to further decentralize the ecosystem.
Growth: Since January, over 27,000 new faces have joined one of the Stacks community Telegrams, while online brand reach grew nearly 4x (3.8) from 368.8 million to 1.4 billion over the same period last year. The Blockstack community participated in 40+ virtual events worldwide in Q3 and saw the official Meetup community surpass 10k+ members. Over 5,500 people attended our two signature events, Redefine Summit and FuturePROOF, while 24 AMAs took place in China, Korea, Indonesia, Turkey, Russia, Spain, the US, and more.
Partnerships: Last quarter we brought in valuable new partners to the ecosystem like Chainlink, Blockdaemon, and Arweave, for oracles, infrastructure, and smart contract collaboration. We're looking forward to several more partners and use cases this quarter.
Stacking Earnings Model: Earlier this month, we released a comprehensive model that allows users to estimate potential earnings based on various assumptions and variables, such as participation rate, the number of miners, transaction fees, as well as others.

If you take one thing away from this message, it's buckle up! The time between now and mainnet should be filled with plenty of opportunities to get involved with events, ecosystem entities, and the Stacks community. The Blockstack PBC (soon Hiro Systems PBC) team has moved out of Slack and onto Discord full time to be closer to the community on a daily basis, so please connect with us there if you haven't already.

Last, but not least, look out for information on the Stacks 2.0 launch event soon.

Muneeb Ali
CEO, Blockstack PBC (soon Hiro)
@muneeb

Don't miss town hall on October 30th at 9am ET/1pm UTC. → Register

Over the past few months, we worked with the community to establish branding that visually captures the spirit of the ecosystem and we were thrilled to unveil the brand system for Stacks. The Stacks blockchain and Stacks (STX) cryptocurrency are the fundamental building blocks upon which a vibrant ecosystem is growing and now we have a brand that unites us.
Blockstack PBC Is Becoming Hiro, Celebrating its Cypherpunk Roots and Developer Community
Blockstack PBC will soon become Hiro Systems PBC, or 'Hiro' (pronounced he·ro), and our primary focus will narrow to providing developers the tools they need to build a new internet on Bitcoin. This change will come as our work on the Stacks 2.0 public infrastructure winds down after launch and the Stacks ecosystem continues to decentralize and grow. The change to Hiro is both a signal of our commitment to developers, as well as a practical change designed to shift focus (previously often put on Blockstack PBC) to the Stacks ecosystem. → Learn More
In early October, Blockstack Co-Founder, Muneeb Ali published a comprehensive model that allowed users to estimate potential earnings based on various assumptions and variables, such as participation rate, the number of miners, transaction fees, as well as others. Coupled with the implementation of Stacking on the testnet, we're seeing a lot of excitement about this type of novel value-creation mechanism. → Stacking Calculator
Feature Press & Interviews
Decentralization and Partnerships
Daemon Technologies Launch
Last quarter, we welcomed a new Asia-based entity, Daemon Technologies, to the Stacks ecosystem. Headquartered in Hong Kong, it will serve as an important entry point and hub for the Stacks Ecosystem in Asia, while further decentralizing the ecosystem. Daemon's Founder and CEO, Xan Ditkoff, has been on the ground in Hong Kong, researching, preparing, and launching Daemon Technologies. Daemon plans to experiment with software that leverages the Proof-of-Transfer infrastructure of the upcoming Stacks 2.0 chain, including an open-source mining bot. → Learn More
Freehold: Empowering The Stacks Community
In September, yet another entity joined the Stacks Ecosystem. Freehold, founded by former Blockstack PBC Head of Growth, Patrick Stanley, will be taking on the role of empowering tightly knit communities to collaborate on open protocols, starting with Stacks. Freehold is the 'Contribution Entity' as outlined in the Stacks ecosystem's path to decentralization. Freehold's initial goal is to advance ideas and projects in the space by first encouraging active contributions to the ecosystem. Members will later be able to earn rewards by completing various challenges related to community building. To learn more or get involved with Freehold, go to joinfreehold.com.
Chainlink: Stacks 2.0 + Chainlink Oracle Technology
Blockstack PBC and Chainlink announced that they are joining forces to integrate Chainlink as the preferred oracle solution for the Clarity smart contract language. The initial integration will revolve around integrating Chainlink's widely used Price Feeds, but will likely evolve into a generalized oracle solution for Stacks 2.0. → Learn More
Blockdaemon to Provide Robust Node Tools for Stacks 2.0
In August, we announced a partnership with Blockdaemon to provide a seamless path to running a Stacks 2.0 node. Blockdaemon makes it possible for users to directly launch Stacks 2.0 nodes with just a few clicks via their marketplace → Learn More